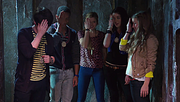 Sibuna is a student organization formed by members of Anubis House. Its name is Anubis spelled backwards, most likely honoring the house. Amber first came up with the name, explaining it was Anubis backwards. All the members of Sibuna are Anubis House residents.
Original Members
Additional Members
Other/Touchstone Of Ra Members
Official Members
Edit
The Official Members in Order
Note: * Means that while these Anubis House residents have been involved at times with the seasonal mystery, nothing has been confirmed about their membership status.